Havent done a garage thread in... ever, so I decided it was time.
Newest addition. Completely stock. Baught it from local RS for 1/2 price since there werent any upgrades. Added pushbar. Chassis is being sent out to Triple X for liths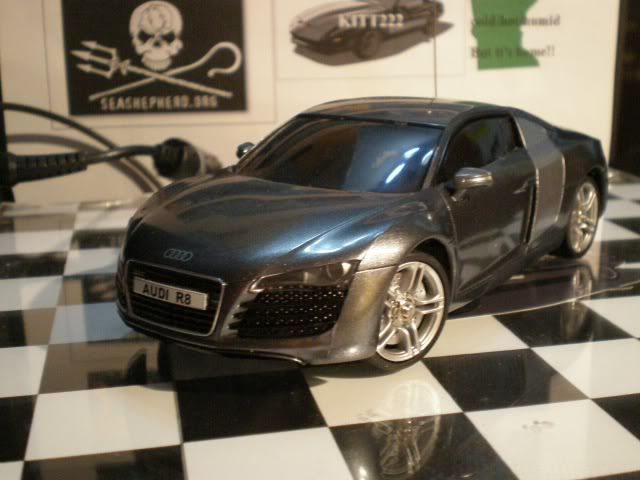 2nd stock Xmod. Got it from mom for Christmas. I love the detail and quality of the R8 body.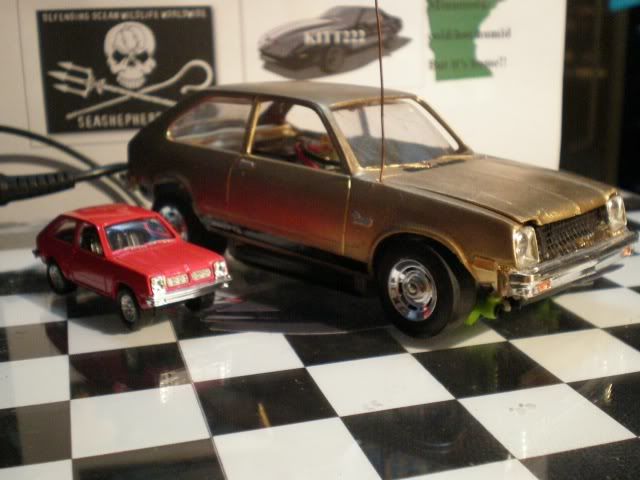 3rd stock Xmod. Gotta love the Chevette, and his red 1/64th scale brother.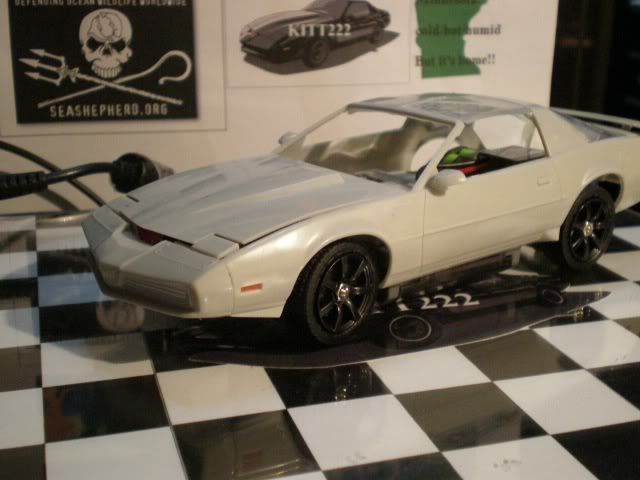 4th stock Xmod. Its my KITT project! Just gotta finish a few things, like make the hood removable, and get some fiber optics for 3mm LEDs, then paint it. It has exchangable headlights, so it has some flipped up headlights.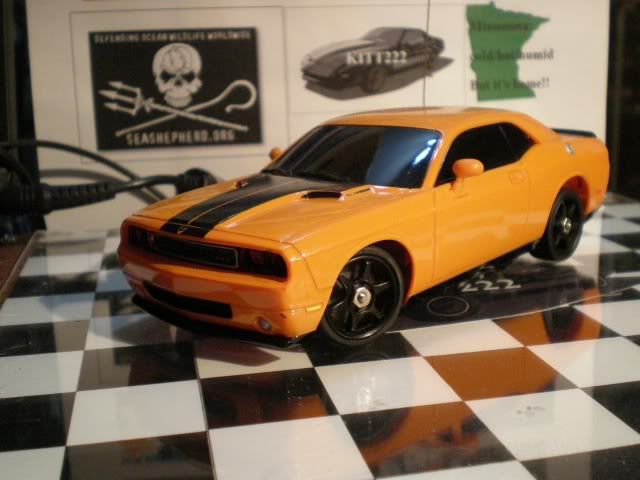 Racer-ish Xmod. Lowered Challenger. Has AWD, and Speedy 07 motor, soldered to the board. Plan on painting the body gunmetal grey, and putting in some real mesh for the grill.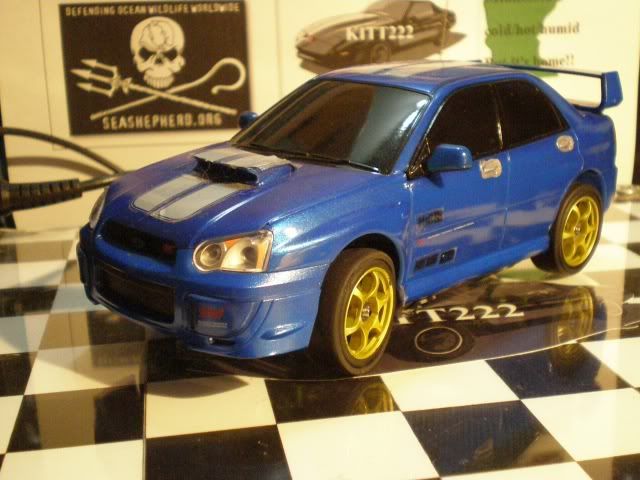 rally-ish Xmod. AWD and Speedy 05 motor under a Subaru body that I love! Chassis raised, and double-tires.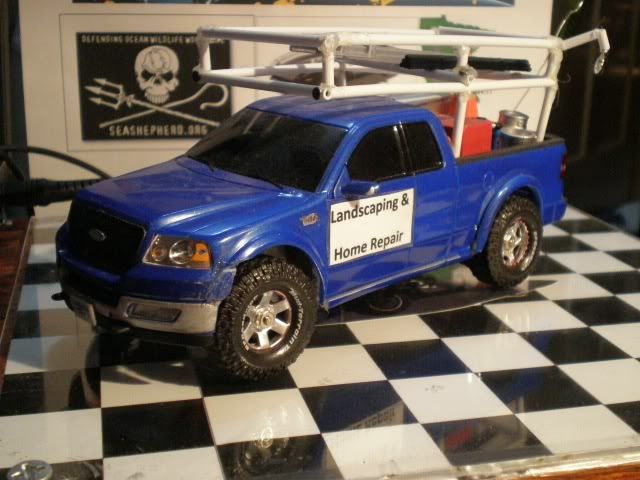 Realistic F150. So proud of it, it get two pictures! Painted grill, trim, badgings, and bed lips. Has that obvious roof rack, trailor hitch (trailor not pictured), license plates, offroad wheels, custom opening bed box I spent an evening building (the white thing on the beds right), fender flares modded to fit current body kit, signing and a few other things, such as the bed accessories. Chassis stock.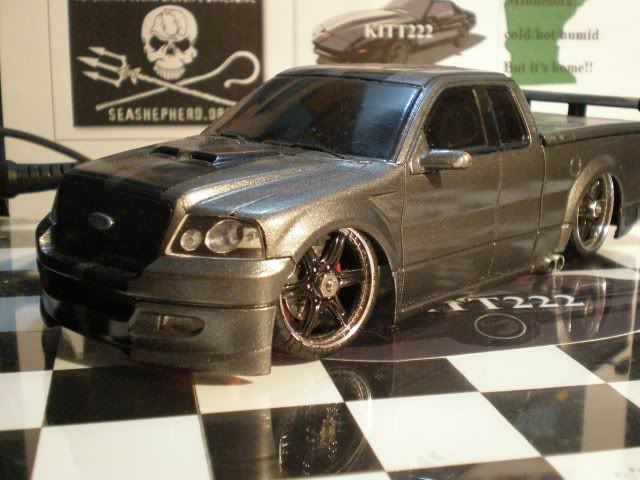 Noturday's smalled F150. Got it for a decent price. Havent done a thing to it, nor plan to do a thing to it. Has red underglow.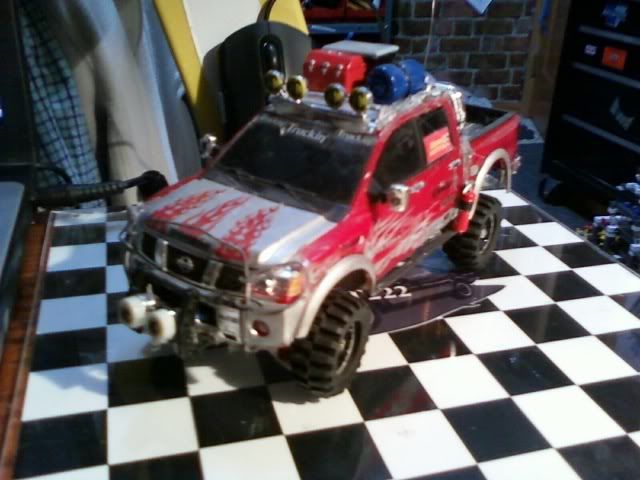 Picture from cell since I forgot to take picture. Will take better pic later. Backdrop is absent, so you can see a bit of my room. Anyways, its the truck that started it all! Got it from aunt and uncle on moms side 2 or 3 years ago. Has painted trim, roof, and hood. F150 fender flares, roof rack off 1/24th scale Ford Escape, roof bar, with bed rack, custom brush guard, Barricade push bar with custom lights behind those white covers, body lifted, lift kit, custom wheels, radline motor, AWD, and many assorted other things.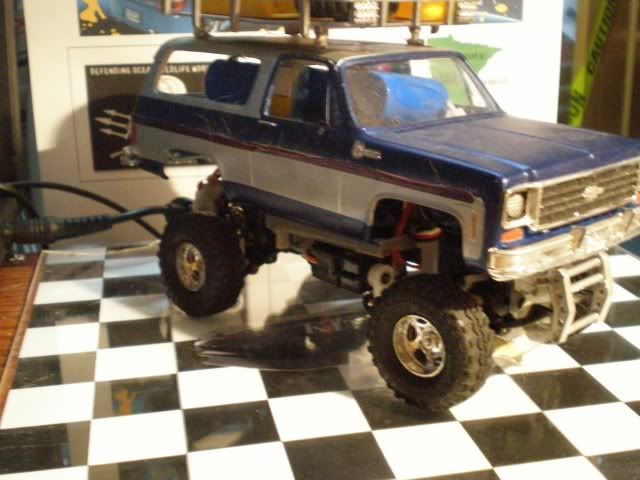 My high COG Blazer. Started life as Xmod4life's Hilux, but evolved into this. Many plans, but for now this is how she stays.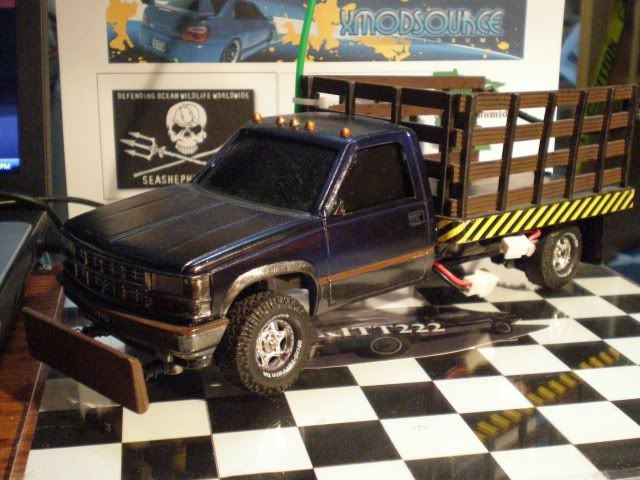 123Vette's flatbed. Its a magnificent truck! Havent done anything except zip tie the antennae, and dont plan to do much.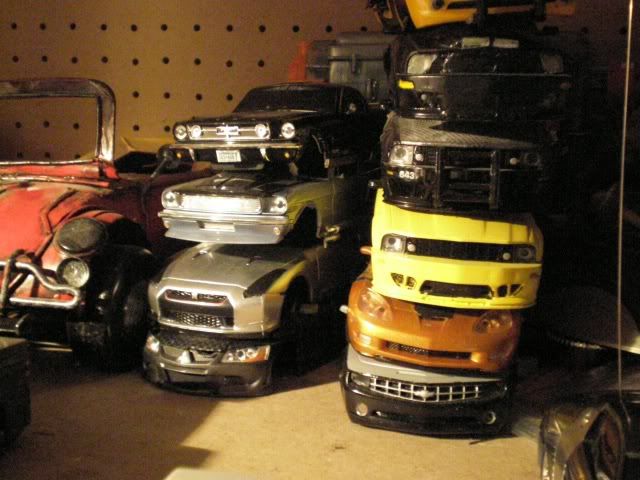 My assorted bodies that go on the chassis from time to time. Clockwise, from the black Mustang: Black Mustang that came with what is now the rally-ish chassis. Has custom stripes, and F150 spoiler. On top of the black Mustang is my killer Camaro. Some body panels black, others blue, but mainly the Bumblebee color. Is loaded to the teeth with the bumblebee missiles, machine guns where the fog lights are, a hotrod intake, and a push bar. Black Mustang is KITT from the new Knight Rider series. Got it from Blackdragons recently and it looks great! Under KI4T is Barricade, my first Evo car Xmod. Has CF hood, and other decals. Not exactly what I want in my rearview mirror. Yellow Mustag: Targa-soft top. Horrible cutting job, with hack paintjob. Concept was good, but its not exactly a good body, but what can I say, I made it as a MAJOR amatuer. Corvette. Yup. A Corvette. May be turned into a ZR-1 soon. Noturday's Camaro. Love the paintjob! Looks great with the wheels currently on the Challenger. Lancer: Bullrun Team Evo Lancer. CF sticker fenders, and hood with custom decals. Decals coulve come out better, but it got me a few votes from the COTM I entered it in. Silver GTR. Just a GTR with a soft top. Not sure what I want to do with it. Blue Mustang: Gen-1 modified to fit Evo chassis. Got it as a steal with body kit! Not pictured: '78 Monza body, Fail-150: Hack try at painting, Bondo's American flag F150, crashed Firebird, black, smooth Corvette, and police Hummer SUT.
Not pictured: '69 Camaro. First ever project. So happy with it. Its currently with its 1:18th scale brother in a case.
Questions/Commments/bad jokes welcome!