Ok guys, I just made this tutorial with step-by-step instructions and a few pics included. I used the custom rims that I did for my H2 xmod in this tut.
Things needed:
set of rims ( the ones you want to customize)
an old set of xmod rims ( a set you don't need basically)
a snipper/clipper pliers (or a nail clipper can work also)
an exacto blade or knife
super glue or model cement glue
a dremel rotatary tool - ( needs sander bit and dremel bit)
Here's a pic with the first steps I took to get started
Pic1: steps 1-5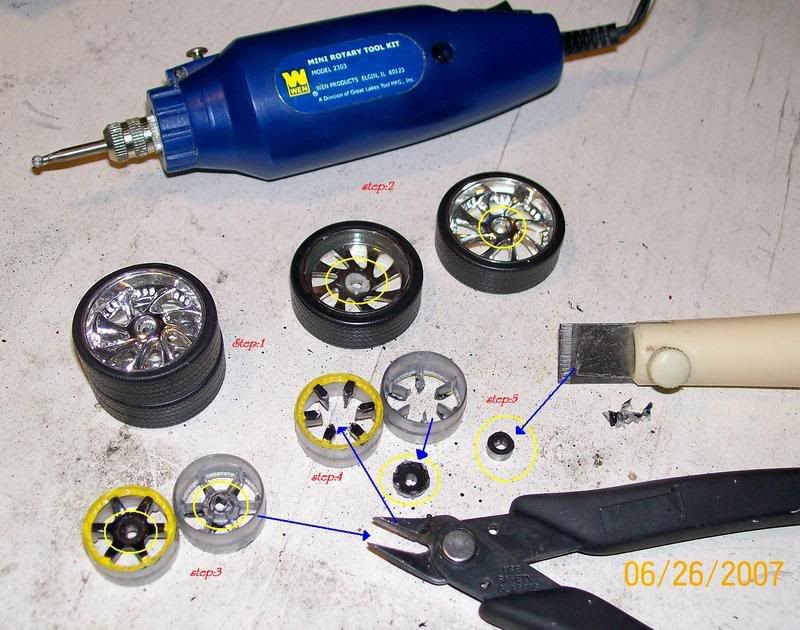 Step 1: get the stuff together including the rims to start off.
Step 2: You'll need to cut off the stem from behind the rims and drill a guide hole in the exact middel of each rim as seen in the pic.
Step 3 & 4: get your old set of xmod rims and cut out the center d-hub using the clippers. When you're done you should end up with the center piece as seen in the picture (step:4)
Step 5: use your exacto blade or knife to cut away the edges from the hub ( be sure to cut the sides away with the hub facing downward) - this will make it more round and smooth in appearnace plus it provides a smaller circumference for the hole you'll have to make in the rims later.
Pic 2: steps 6-8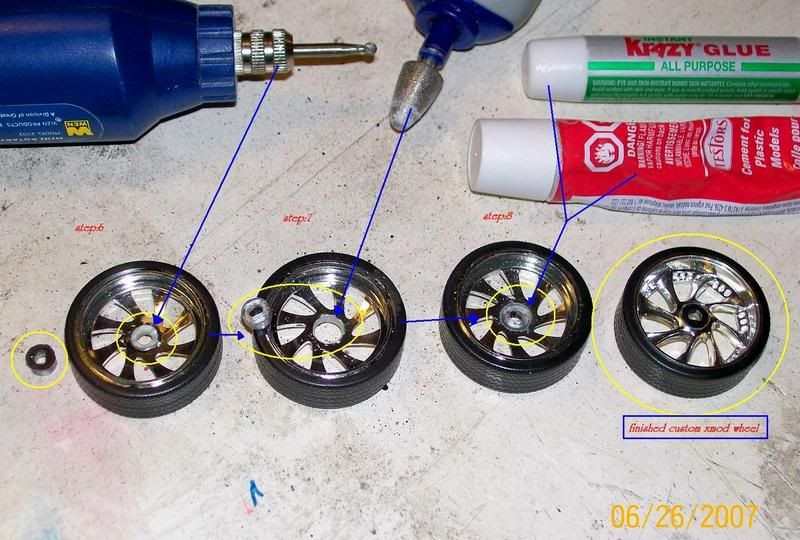 step 6 & 7 : use the dremel to make a hole in the center of the rims (this part you have to be very carefull - you don't want to make the hole bigger than the d-hub piece so be sure to measure it by placing the hub in the hole to see if it fits tightly ). When you're done dremeling the holes be sure to sand or file it smoothly so that the hub can fit in perfectly and be centered correctly (step:7)
Step 8: Now you can place the d-hub in the hole and glue it using crazy glue or model plastic cement glue (be sure that it's levelled/flush in the front of the rims so it doesn't stick out at all).
The finished rims should look like the last wheel in the picture.
Here's it fitted on a H2 - I made 2 set using these same methods: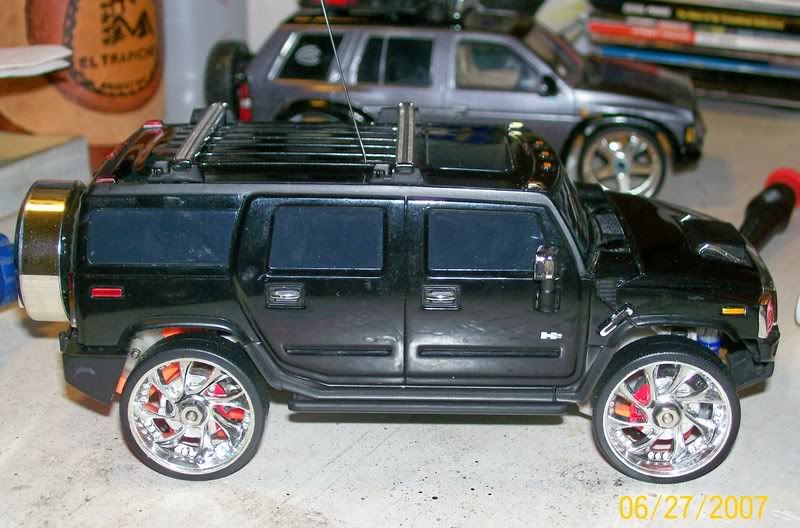 I hope this was simple and easy to understand for those of you who want to try and make their own set of wheels for their xmods.
Thanks and i'll be doing some more tuts on making accessories for you xmods soon.